Lattes & Legislators with Ohio Turnpike & Infrastructure Director Ferzan Ahmed
Monday, April 12, 2021 (7:30 AM - 9:00 AM) (EDT)
Description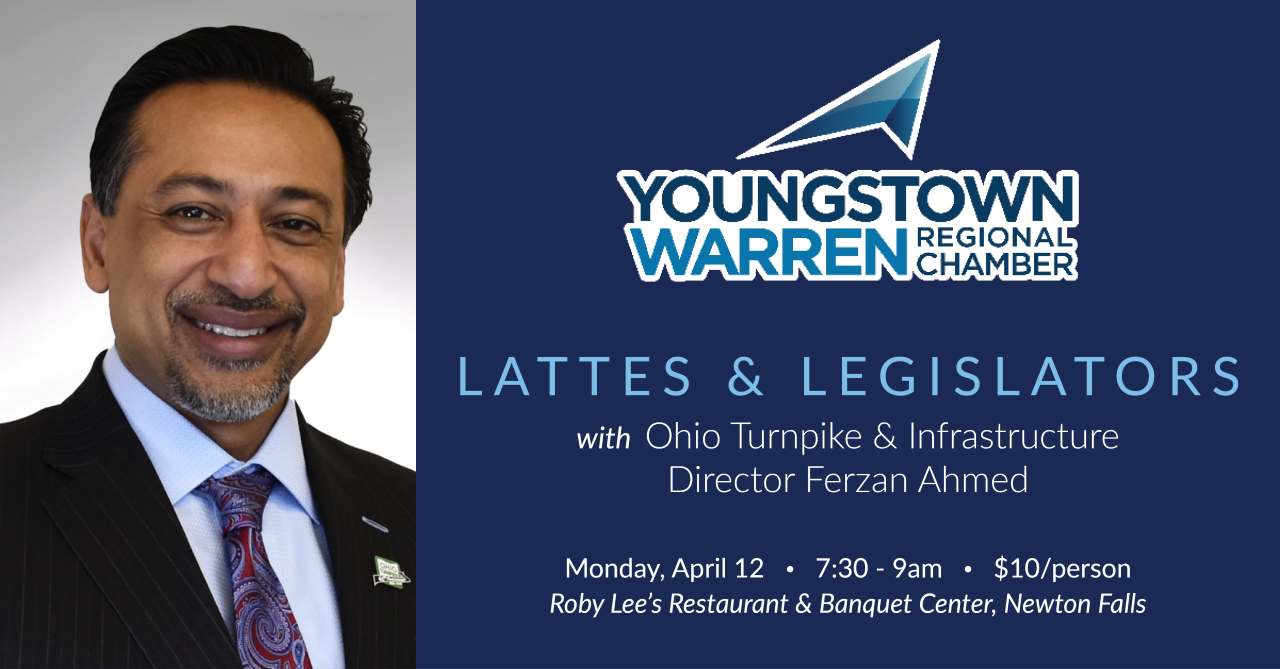 With the Ohio Turnpike undergoing a modernization plan that changes how and where both commercial and passenger vehicle operators pay, it's an ideal time to hear from the thruway's director.
Ohio Turnpike & Infrastructure Commission Director Ferzan Ahmed will provide an update on this modernization during the Regional Chamber's Lattes & Legislators event scheduled for 7:30 a.m., April 12, at Roby Lee's Restaurant in Newton Falls. The Turnpike plays a significant role in the movement of Mahoning Valley commuters and commerce with seven exits between the Pennsylvania state line and Newton Falls.
Ahmed will also discuss the Mahoning Valley effort to create the Lordstown Logistics Hub to use electric, autonomous and connected mobility as a catalyst for economic development. The Turnpike is a partner in this effort to capitalize on investments already made by Homegoods, Lordstown Motors Co., Ultium Cells – the partnership between LG Chem and General Motors – and many other companies.
Sponsors
This event is sponsored by
717 CREDIT UNION
CITY OF NEWTON FALLS
DOMINION ENERGY
ENCINO ENERGY
ms consultants, inc.
US SAFETYGEAR, INC.
Roby Lee's
425 Ridge Rd.



Newton Falls

,

OH

44444



Monday, April 12, 2021 (7:30 AM - 9:00 AM) (EDT)
Categories