[SOLD OUT] 2023 Washington D.C. Fly-In
6/7/2023 - 6/8/2023
Description
Wednesday, June 7 - Thursday, June 8
Hotel - Hyatt Regency Washington D.C. Day 1 - Members Room in the Library of Congress
Day 2 - Hyatt Regency Hotel Conference Room
This year's Fly-In returns to the Nation's Capital with energized support. Our community and business leaders will descend on the Hill and with one voice and raise up the Valley's top public policy issues critical for the continued growth and success of the region.
Day 1 of the DC Fly-In is shaping up to be a fantastic experience!
We have gained access again, thanks to Congressman Bill Johnson, to the exclusive Members Room inside the historic Library of Congress. This room is used by Congress, the Senate and Presidents for important meetings to avoid the attention at the Capitol and the White House. It also has the bonus of being a stunning venue overlooking the U.S. Capitol.
To date, we have secured several influential speakers who will address our delegation on issues important to the Valley:
11:15 a.m. - Senator Sherrod Brown (D)

1:30 p.m. - Congressman Dave Joyce (R)

2:15 p.m. - Congressman Mike Turner (R)

2:45 p.m. - Senator JD Vance (R)

3:30 p.m. - Congressman Bill Johnson (R)

7 - 9 p.m. - Rooftop Reception
Day 2 has more to come so keep an eye out for our email and social media updates!
9 a.m. - U.S. Chamber of Commerce Update

10 a.m. - Department of Energy Update

11 a.m. - Department of Defense
PRIORITIES:
Support for military construction projects essential to protecting and expanding the Youngstown Air Reserve Station, the Mahoning Valley's second-largest employer.

Support for construction projects and funding for the Youngstown Warren Regional Airport, an essential partner of the Youngstown Air Reserve Station. NO AIRPORT = NO BASE, NO BASE = NO AIRPORT.

A LIVE Zone Initiative to create a state-of-the-art, connected transportation and distribution network in the Mahoning Valley.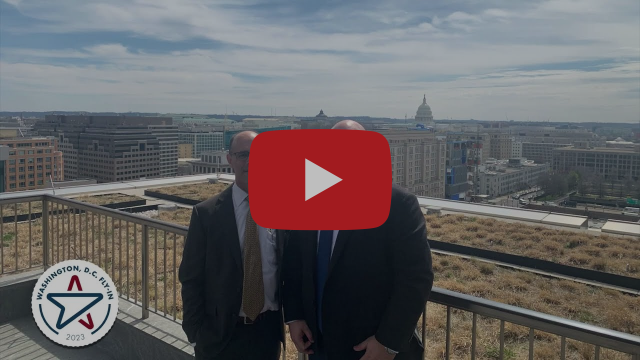 Day 1 Cocktail Reception 7 - 9 p.m.
American Petroleum Institute
250 Massachusetts Avenue, Washington, DC 20001
Our evening reception for Day 1 will provide a unique experience under the stars!
Please join us and our Reception Sponsor, American Petroleum Institute (API), at their Penthouse Terrace overlooking the U.S. Capitol and Washington Monument. This venue provides a fantastic indoor/outdoor networking experience with an open bar and delicious hors d'oeuvres.
We look forward to seeing you there!
Sponsors
Platinum Sponsor
HUMTOWN PRODUCTS
Partnering Agency
EASTERN OHIO MILITARY AFFAIRS COMMISSION (EOMAC)
Reception Sponsor
AMERICAN PETROLEUM INSTITUTE - OHIO
Gold Sponsor
SERVPRO TEAM DOBSON
STRANGPRESSE, LLC
TEAM NEO
WESTERN RESERVE PORT AUTHORITY
Naming Sponsor
DOMINION ENERGY
ENCINO ENERGY
HIGHLAND FIELD SERVICES
Recognition Sponsor
Hyatt Washington D.C.
400 New Jersey Avenue NW



Washington

,

DC

20001

United States