Mahoning Valley Safety Council: Developing & Evaluating Safety Policies
Wednesday, February 3, 2021 (11:00 AM - 12:00 PM) (EST)
Description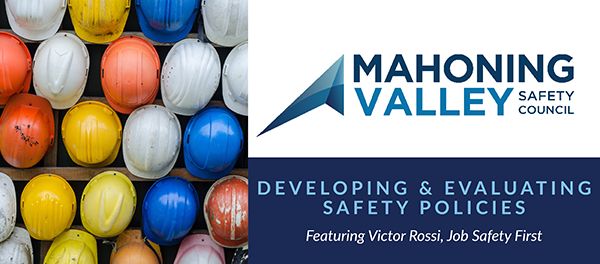 A company must be committed to a safe, accident-free and healthy work environment for everyone. However, excellent, safe and healthy working conditions do not occur by chance; they are a result of diligent work and careful attention to all company policies by everyone!
During our Mahoning Valley Safety Council's February webinar, Victor Rossi, owner and lead trainer at Job Safety First, will discuss how to start a company safety policy and evaluate an established policy.
Rossi has been a Safety Trainer for more than 20 years. He began as a safety trainer for General Motors, receiving extensive training at the GM/UAW safety training facility in Detroit and teaching all levels of the company in OSHA-required training subjects. After retiring from GM in 2002, he established and opened Job Safety First, LLC and has had, and continues to have, further safety training through the University of Michigan and University of Cincinnati.
Rossi is authorized by OSHA as an Outreach Safety Trainer for the 10 & 30 Hour General Industry courses. He has taught classes at several companies and presented at safety council events, company functions and the Ohio BWC Safety Expo.
via Zoom

Wednesday, February 3, 2021 (11:00 AM - 12:00 PM) (EST)
Categories